Baton Rouge - Blues Artist - by Susan Cowan Acosta
Musical Performance, Production & Instruction
Since its founding in 2003, Bluzman, LLC has established itself as a successful musical entertainment agency producing festivals, events, artists and recordings.
Kenny Acosta with 48 years in the music business is co-owner, producer, and in high demand as a guitar and vocal instructor.
Kenny Acosta is also a voting member of the Recording Academy and is a national recording and performing artist.
Susan Acosta is co-owner/ manager/ agent/ producer with over 35 years in management and 13 years in the music entertainment business is highly respected and sought by many artists for her expertise in management, booking and production.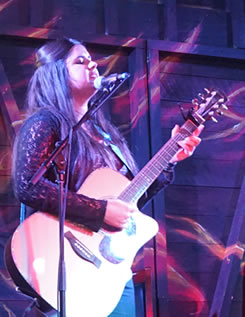 Bluzman, LLC represents Louisiana Blues Legend Kenny Acosta and young emerging Louisiana artist Destiny Manzella and are available for booking at venues, festivals, events and private parties.
Kenny Acosta Blues Legend and the winner of the 2011 and 2012 New Orleans Blues Challenge solo/duo competition as a solo act.
Kenny proudly represented the Voodoo Blues Krewe New Orleans Blues Society in the International Blues challenge in Memphis as a solo act in 2012 and 2013. [...read More]
Meet Destiny Manzella 14 year old emerging singer-songwriter, guitarist and pianist. Destiny at the age of four relocated to Baton Rouge, La. and now resides in Central, La. due to a storm named Katrina that destroyed all the family's possessions and home. She states even though being relocated to Central she has been surrounded by positive influences, and her faith and family taught her it was meant to be. Destiny's eclectic mix of musical genres are pop, jazz, r&b, soul, funk, blues, reggae, and gospel are influenced by her New Orleans roots. [...read More]