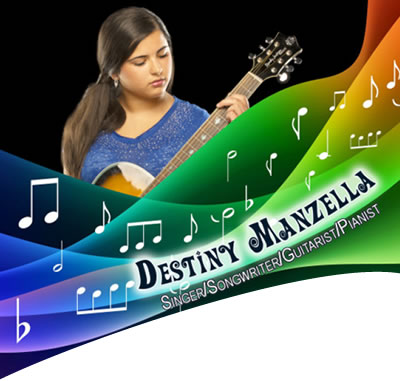 Destiny Manzella
Singer / Songwriter / Guitarist / Pianist
Meet Destiny Manzella 14 year old emerging singer-songwriter, guitarist and pianist. Destiny at the age of four relocated to Baton Rouge, La. and now resides in Central, La. due to a storm named Katrina that destroyed all the family's possessions and home. She states even though being relocated to Central she has been surrounded by positive influences, and her faith and family taught her it was meant to be. Destiny's eclectic mix of musical genres are pop, jazz, r&b, soul, funk, blues, reggae, and gospel are influenced by her New Orleans roots. She recorded her first EP on Bluzman Records and DVD for promotion and was released in January 2015. Her new CD on Bluzman Records will be released in 2016. Since her childhood dance and music have been part of her life which attribute to her superior talent at such a young age.
Destiny was selected Central's Student of the Year in 5th and 8th grade. Destiny is a freshman at Central High School this year and has a 4.5 GPA and makes right decisions to be a good role model. She was selected to represent the freshmen class on the Student Council this year and is a member of the Concert Choir. Destiny is also a member of the Talented Art program through which her art has been published in the prestigious Celebrating Art publication. Destiny was invited to sing at Carnegie Hall for the past two summers with the Honors Performance Series of selected talented students from around the world. For over a year now she has been performing, singing and playing guitar and piano in selected venues, events, retirement communities, medical facilities and several established Louisiana Festivals.
As Destiny says "I practice and take lessons, but I love to write and make up my own songs." "I love to play without limitations." "Music is important to me because it is part of my family and allows me to express myself."
♫ Destiny's Latest Videos
Click on video (
right column
) to view.
♫ Destiny's Selected Live Performances
3rd Street Songwriters Festival - Baton Rouge, La.
Arts In Medicine, Baton Rouge General Hospital - Baton Rouge, La.
Atomic Pop Shop - Baton Rouge, La.
Azelea Estates Retirement Community - Gonzales, La.
Caliente Mexican Cravings - Central, La.
Charlie's Place, Alzheimer's Services -Baton Rouge, La.
Children's Hospital, New Orleans - New Orleans, La.
Generations Hall - New Orleans, La.
Hot Art, Cool Nights, Mid-City Art Hop - Baton Rouge, La.
Jam Central 1st & 2nd Annual - Central, La.
LSU AgCenter, Botanic Gardens, Picnic at the Pavilion -Baton Rouge, La.
Lava Cantina Singer Song Writer Night - Baton Rouge, La.
Oakwood Village - Zachary, La.
Our Lady of the Lake Children's Hospital - Baton Rouge, La.
Pack the Park Block Party EBRSO & CCAF - Central, La.
Que Pasa Restaurant - St. Francisville, La.
Red, White and Blues Festival - Clinton, La.
St. Alphonsus Festival of Two Rivers - Greenwell Springs, La.
Sunday Songwriter Showcase - Downtown Baton Rouge, La.
The Arc Plane Pull Festival - Baton Rouge, La.
Three Rivers Art Festival - Covington, La.
White Light Night, Mid-City Art Hop - Baton Rouge, La.